Guerrilla Marketing is a way to showcase your business or product in unconventional methods that often times cost little-to-no money. I've found some of the best photos that will show you just exactly why Guerrilla Marketing works and will definitely have you looking at them and going "Why didn't I think of that?"
10. Motrin Outdoor Advertising Campaign
Motrin – Targets your pain. Where it hurts.
To demonstrate how Motrin Ibuprofen targets your aches and pains, we sent out an over ambitious shopper to walk around heavily populated areas on the last weekend before Christmas. With the help of a cleverly designed mannequin we were able to make it appear as though the shopper¹s back was bent over at a 90 degree angle, proving once again that Motrin targets your pain where it hurts.
Advertising Agency:Â TAXI 2, Toronto, Canada
Creative Director: Lance Martin
Art Director: Mike Blanch
Copywriter: Alanna Nathanson
9. Copenhagen Zoo Bus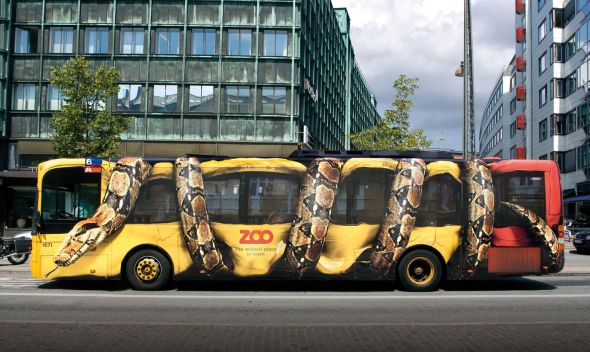 Giant constrictor snake squeezing complete Copenhagen citybus.
Advertising Agency: Bates Y&R, Copenhagen, Denmark
Creative Director: Ib Borup
Art Director: Peder Schack
Agency Producers: Josephine Winther-Poupinel, Steen Nøhr
Other credit: Erich Karsholt
8. MINI Advertising Campaign – Christmas Boxes

Creative Directors: Thijs de Boer, Martijn van der Werf
Copywriter: Thomas Reinhold
Art Director: Thom van Rijckevorsel
Account: Lisa Merelle
7. Beau Rivage Resort Baggage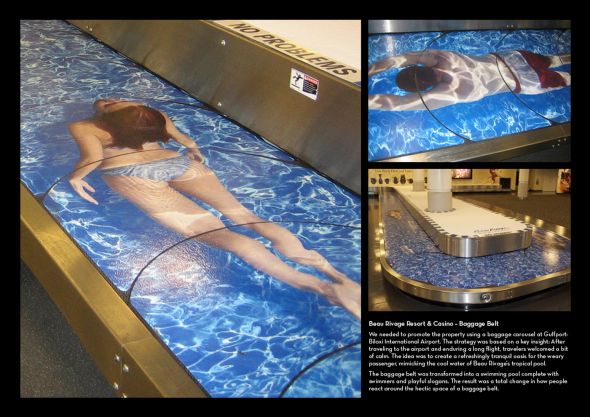 We needed to promote the property using a baggage carousel at Gulfport-Biloxi International Airport. The strategy was based on a key insight: After traveling to the airport and enduring a long flight, travelers welcomed a bit of calm. The idea was to create a refreshingly tranquil oasis for the weary passenger, mimicking the cool water of Beau Rivage's tropical pool. The baggage belt was transformed into a swimming pool complete with swimmers and playful slogans. The result was a total change in how people react around the hectic space of a luggage belt.
6. Bounty Big Spills Advertising Example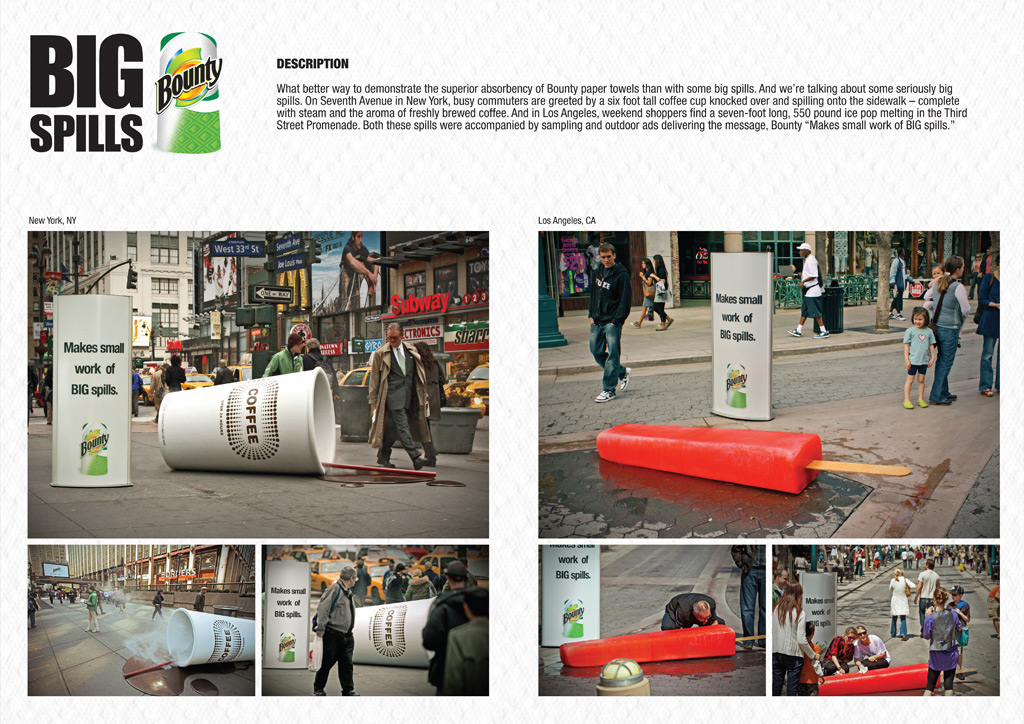 Advertising Agency: Publicis New York, USA
Chief Creative Officer: Rob Feakins
Executive Creative Director: David Corr
Art Directors: Liem Nguyen, Brian Choi
Copywriters: Jeremy Filgate, Simeon Roane
Released: April 2009
5. IKEA Staircase Marketing Example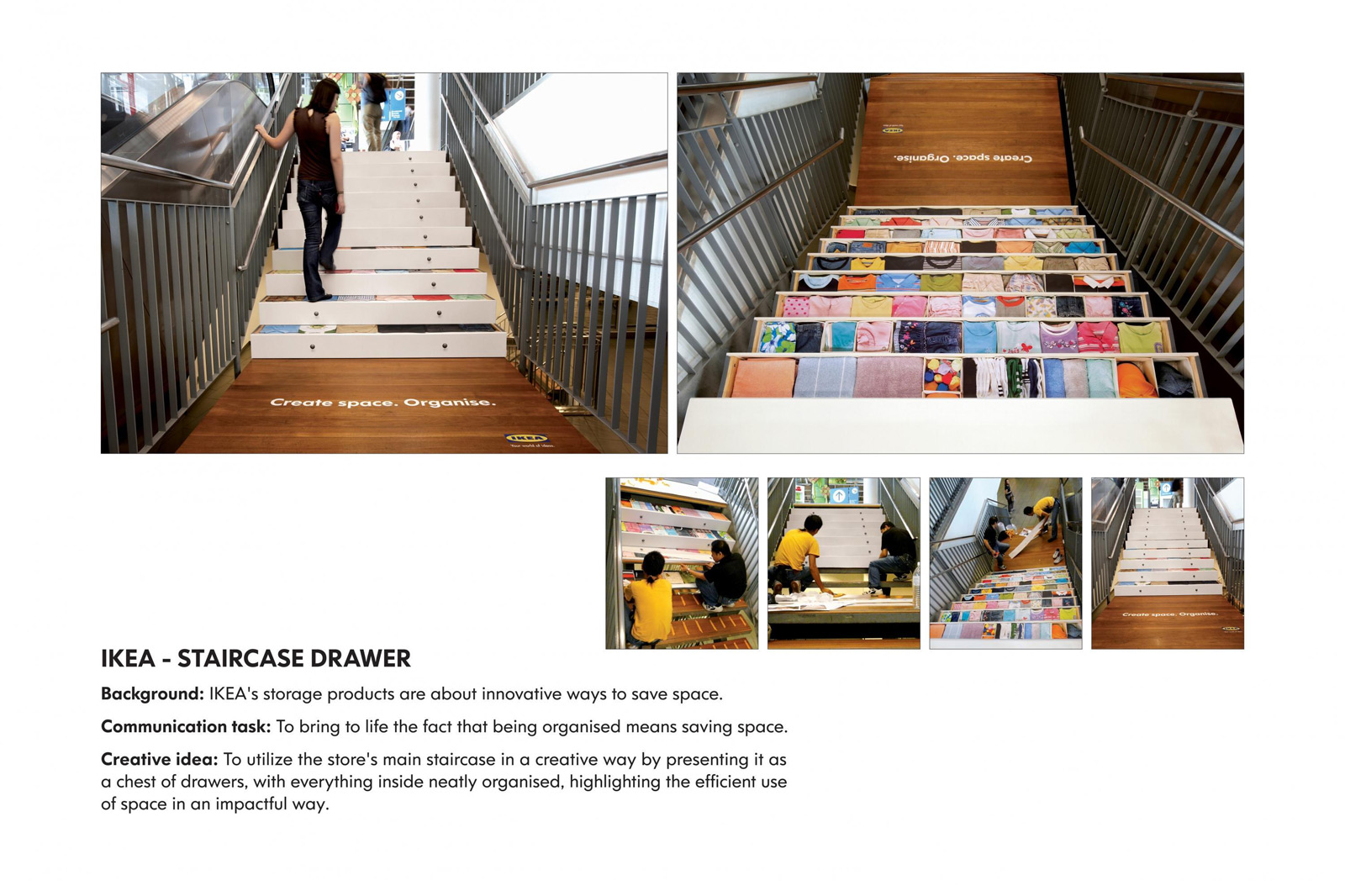 Advertising Agency: Lowe & Partners, Kuala Lumpur, Malaysia
Executive Creative Director / Creative Director: Ng Heok Seong
Copywriter: Mohan Prabhakar
Advertiser's Supervisor: Yeong Tze Kuen
Account Supervisors: Ong Bee Lin, Nicole Wong
Producer: Eddie Lee
Art Director: Joseph Lee
Illustrator: Desmond Phang
Photographer: Hoch/Studio Pashe
4. Guinness Draught Pool Cue Reminds Pub Goers of Guinness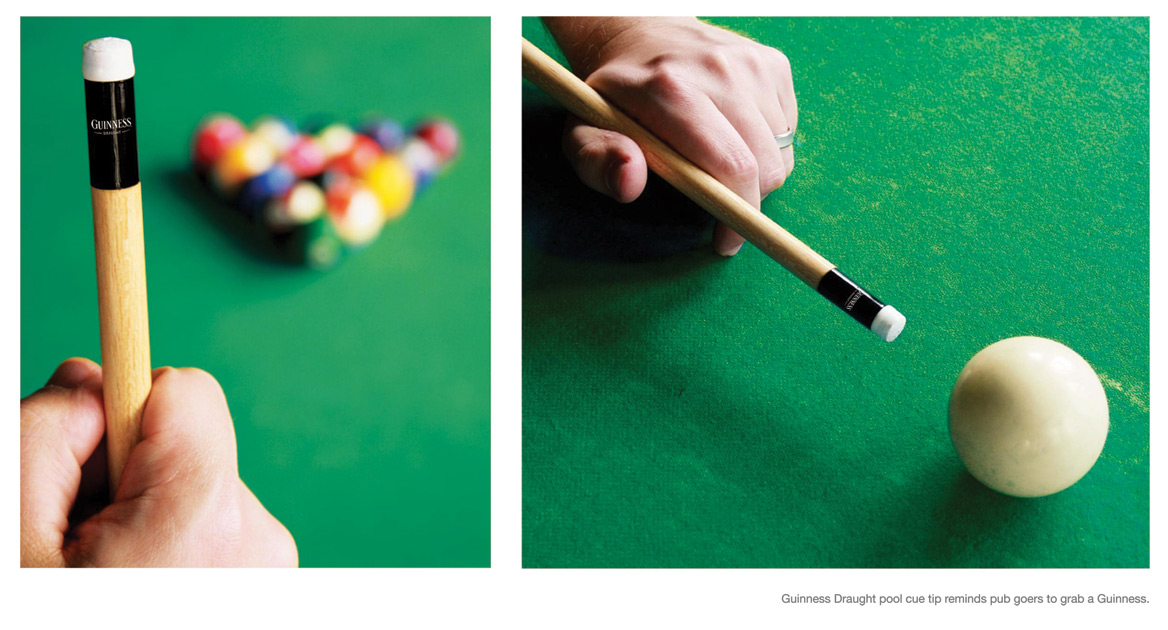 4. McDonalds Free Coffee Ambient Advertising Campaign Example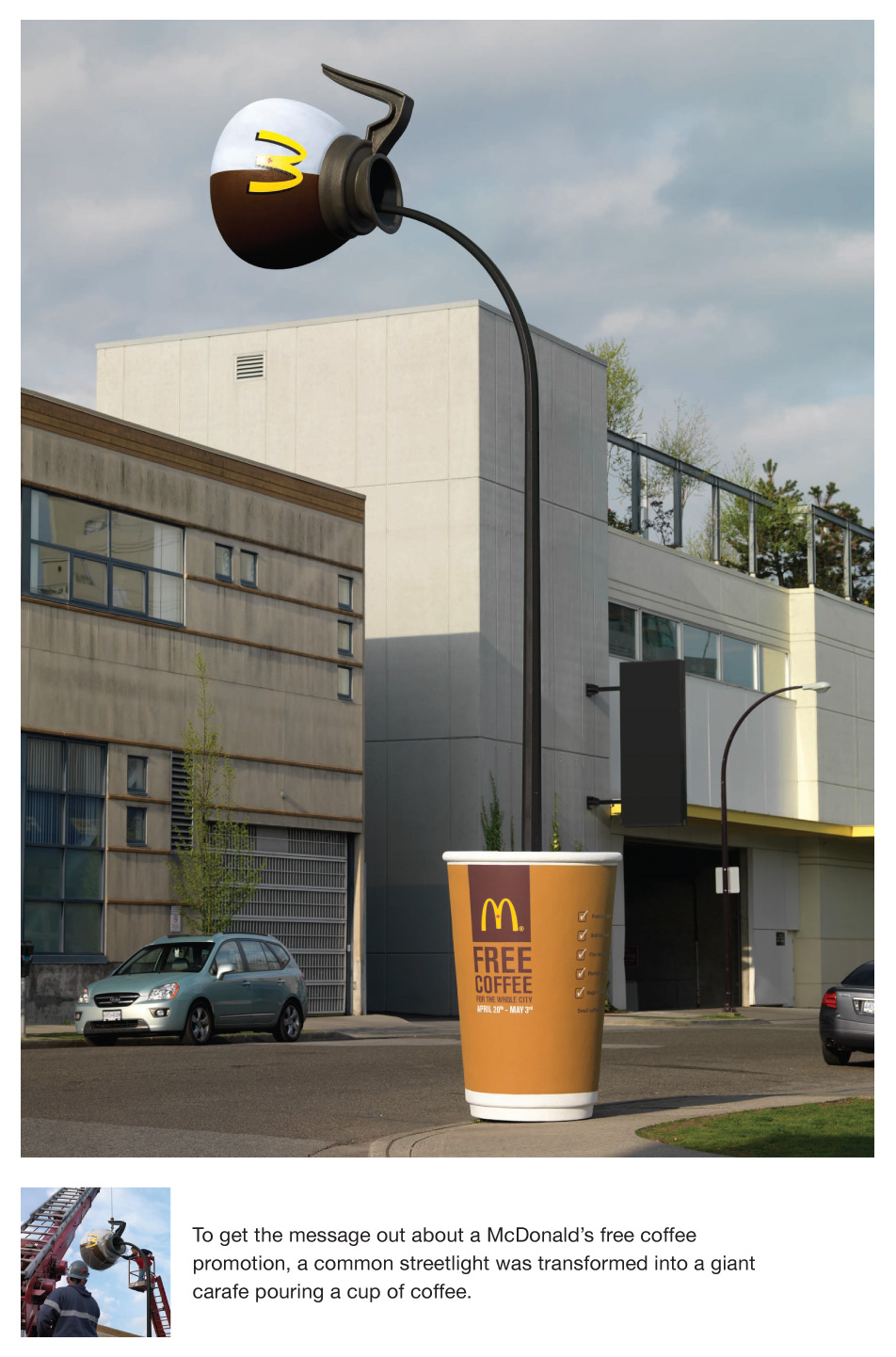 3. Coca-Cola Grip Style Poster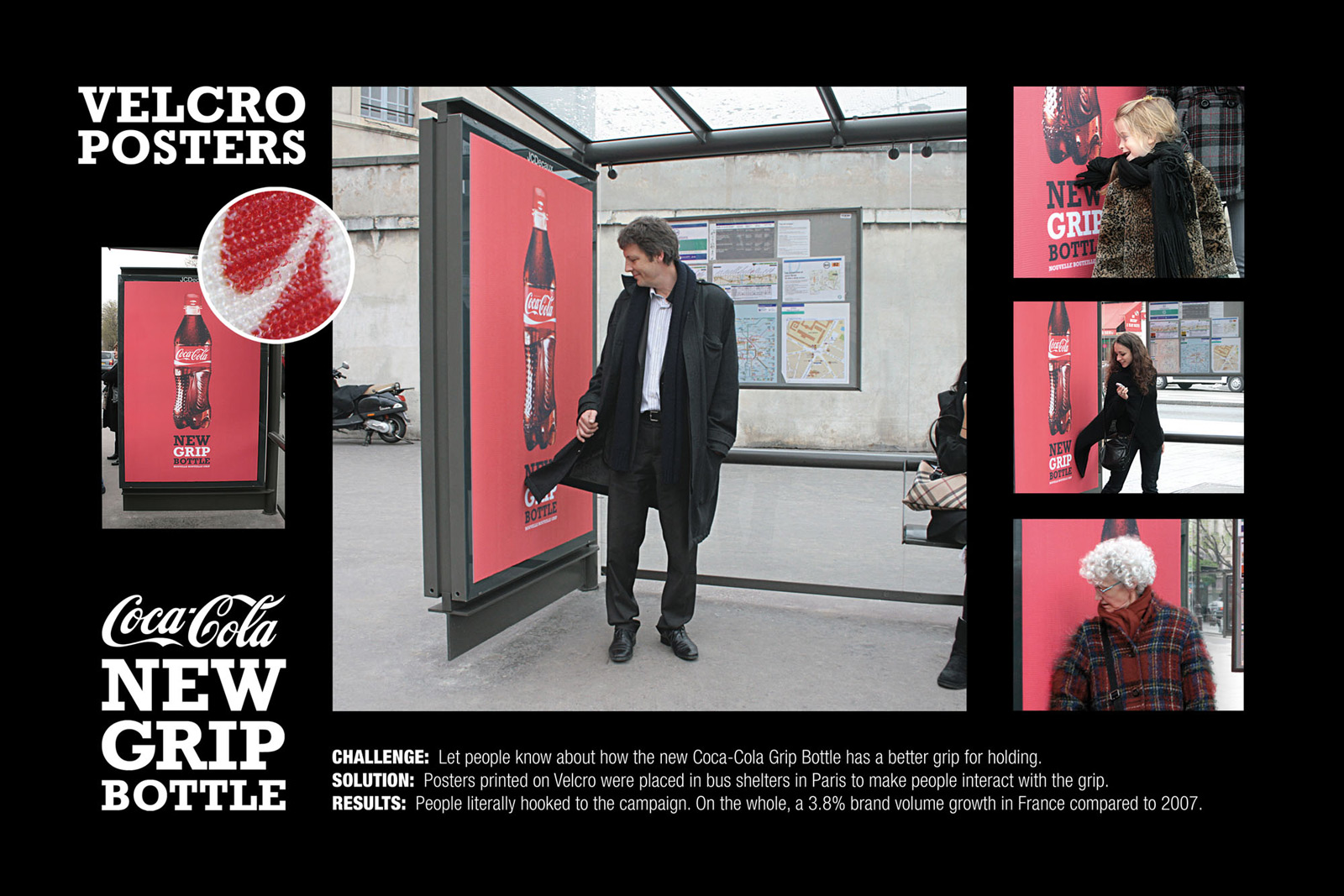 2. Otto Catalog Guerrilla Marketing Examples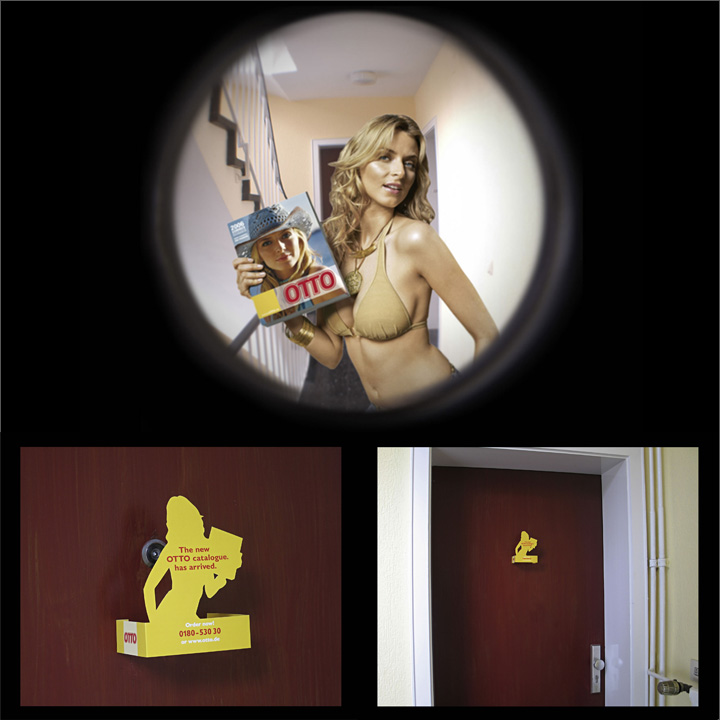 1. Makita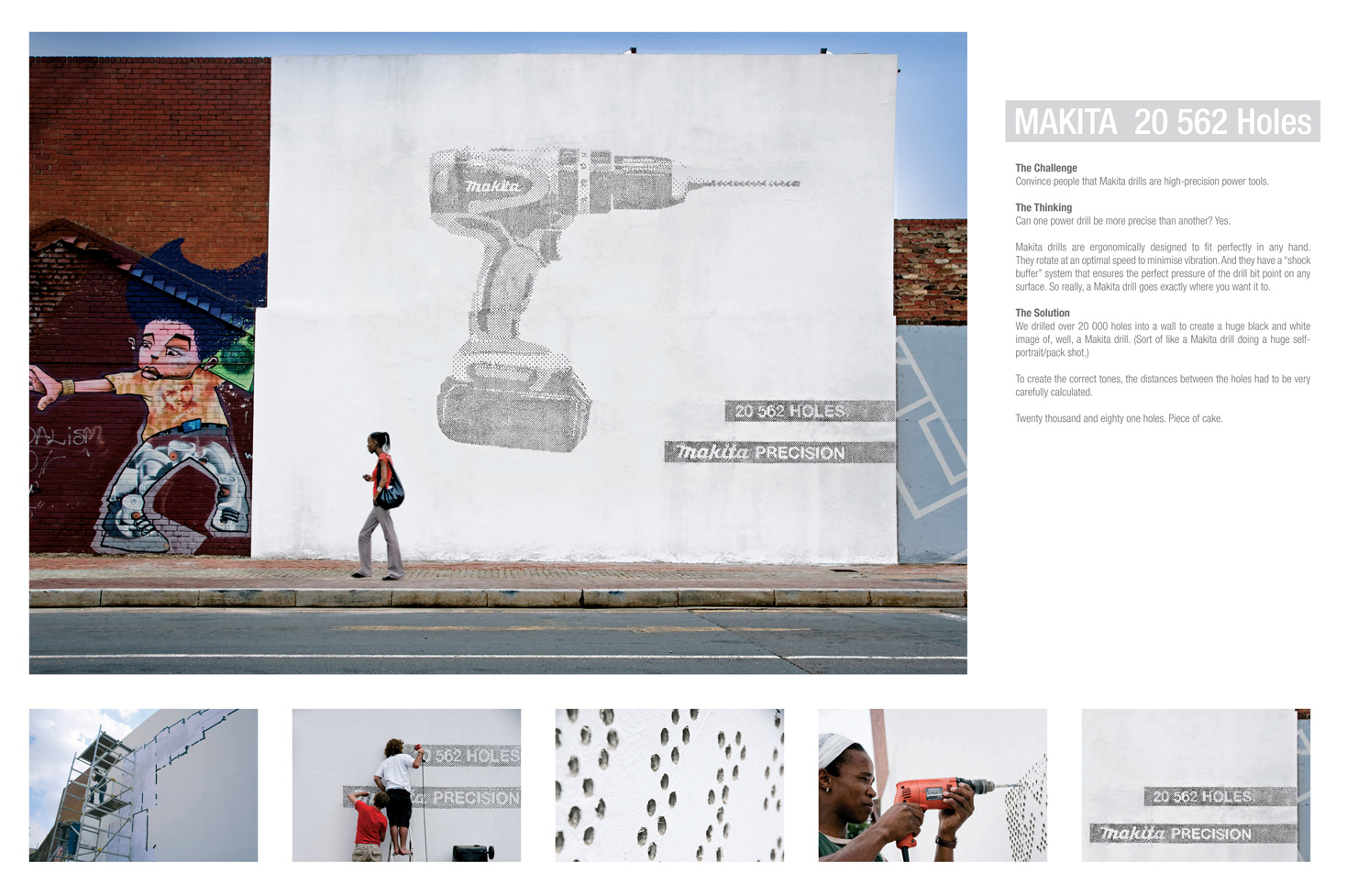 Let me know what you think by commenting below!
If you like it, Share it!
source: adsoftheworld.com