Une Agence Américaine is a communications agency based in Paris, France that specializes in RFID marketing, public events, street marketing and road shows. The agency is relatively new being a little over 2 years old, but they have big ideas. A pioneer in the deployment of RFID, a Une Agence Américaine thrives on new technology to amplify buzz.
Founded by Nicolas Bouvet, Une Agence Américaine has captured the attention of several large brands such as: MINI, AXE and Ben & Jerry's.
You can learn more about the company and their services via their website at www.uneagenceamericaine.com.

How did he get started?
Bouvet started at a marketing agency and worked with several big clients including Unilever, the parent company of several well known brands such as Dove, Lipton and AXE. After working there for several years, he later decided to create Une Agence Américaine.
What's the deal with the name?
Bouvet was playing around with several company names based on several of his favorite songs; however, he settled on the name Une Agence Américaine as it had a certain ring to it.
"It's unique," said Bouvet. "When I tell people I work at an American Agency, I always get strange looks."
Bouvet went on to explain that the 'Une' makes all the difference. For those who do not speak French, Une is the equivalent to the letter 'A/An' in English. So when he tells people that he works at An American Agency, they get confused and ask, "ok, but which one?"
"It's like an inside thing," he said. "People remember us because it's a unique name. It's quite funny."
Bouvet also mentions he would like to expand his company to New York in a couple years and he has a love for the United States.
What are his thoughts on RFID?
Une Agence Américaine has been the pioneer for RFID use in marketing within Paris.
RFID, or Radio-frequency identification (RFID), is the use of a wireless non-contact system that uses radio-frequency electromagnetic fields to transfer data from a tag attached to an object, for the purposes of automatic identification and tracking. Some tags require no battery and are powered by the electromagnetic fields used to read them. Others use a local power source and emit radio waves. The tag contains electronically stored information which can be read from up to several meters (yards) away. Unlike a bar code, the tag does not need to be within line of sight of the reader and may be embedded in the tracked object.
In Paris, RFID use is most commonly known as being used in the public transportation pass, 'le pass navigo.' Bouvet started bringing the same RFID technology into his marketing campaigns.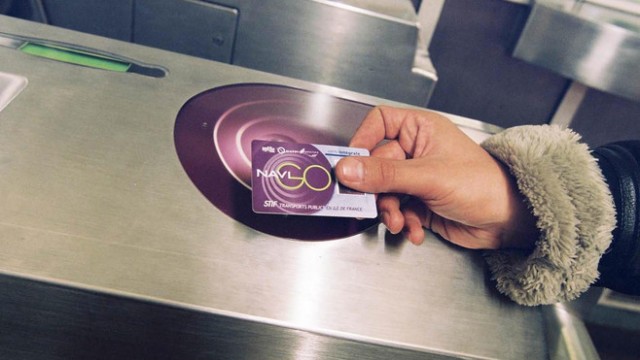 Bouvet believes that RFID technology will become more popular in marketing and went on to say that it will become more integrated with our daily lives.
"People are catching on to RFID technology. They know what it is already and expect it to be used," said Bouvet.
How did he use RFID for the AXE Boat?
To promote the launch of AXE's new product, Une Agence Américaine threw a 200 person party on a boat. The agency used RFID technology to allow people to check in to certain locations on the boat and have their photo uploaded directly to Facebook.
Much like what you'd see at a nightclub, cameras were placed at special booths on the boat that would take a photo of your and your friends. By using RFID technology, a person would simply swipe their card and the photo would be instantly uploaded and posted on their Facebook wall.
Each partygoer would also be assigned with a specific number. People could 'flash' a certain person which would give them one point. A person could only 'flash' the unique individual once. At the end of the night the AXE party boat announced the top 'flashed' man and woman. Going along with the brand message that AXE would attract the opposite sex, this concept definitely reinforced the brand messaging. Awesome!
The Results:
8 parties thrown
1224 people used the RFID cards
6199 publications to Facebook
5140 interactions
325,571 people reached.
The agency just finished their 2012 AXE party boat. It was much bigger and better! Results and video to come.
Check out the video below from last year's AXE Boat campaign!
You can learn more about the company and their services via their website at www.uneagenceamericaine.com.