THE BRIEF
Gulf News, the UAE's leading English daily newspaper, wanted to reach even more readers and
convert them into subscribers. Our target was to gain 1.5% more subscribers, help promote their
twitter channel and increase traffic to the Gulf News website by at least 25%.
THE INSIGHT AND STRATEGY
Consumption habit suggests that people read newspapers while having their morning cup of coffee.
Tim Hortons is one of our clients in the UAE and they serve 35-50,000 coffees per month, per outlet.
Realising its untapped potential, we decided to create a campaign around them to meet our target.
THE IDEA AND EXECUTION
Since fresh news goes well with fresh coffee, we adapted the coffee cup sleeve of Tim Hortons,
a global coffee chain, into an advertising medium and we created The 'Headline News' Cup Sleeve.
Every cup. Every hour. Every day. When Tim Hortons customers received a cup of coffee, they also
received the headline news of the hour, printed using a special printer that pulled out tweets from
the Gulf News Twitter account. The short URL and QR code on the sleeve then directed them to
the Gulf News website where they could read the full story.
RELEVANCE
Timing is everything. So we interacted with our readers when they normally read the newspaper —
when they enjoy their freshly brewed coffee. The 'Headline News' Cup Sleeve allowed us to be the
first throughout the day to deliver breaking news to potential subscribers and make a meaningful
connection with them.
THE RESULTS
Until now, over 1,440 headline tweets have been printed on more than 840,000 coffee cups.
More than 2,900 new Gulf News Twitter followers in the first two weeks of the campaign launch.
The traffic on the Gulf News website grew by 41%.
Subscription's up by 2.8% so far.
We're rolling out this project in Tim Hortons outlets across the UAE and in 14 new outlets soon to be opened.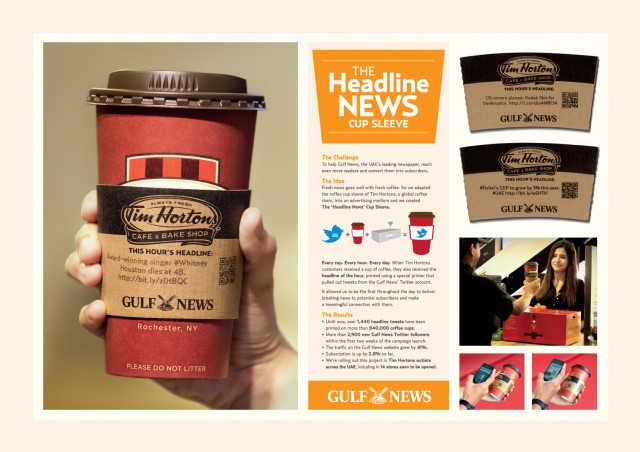 CREDITS
Client: Al Nisr Publishing
Brand Advertised: Gulf News
Agency: Y&R Dubai
Chief Creative Officer: Shahir Zag
Creative Director/Copywriter: Shahir Zag
Creative Director/Art Director: Joseph Bihag
Copywriter: William Mathovani
Head of Production: Amin Soltani
Agency Producer: Leng Panganiban
Business Director: Zaakesh Mulla
Account Director: Kandarp Baxi
Technical Developer: Pixel Plus Media
Photographer: Mojtaba Komeili/Arturo D. Smith
Editor: Subash Mishra
Client: Duleep George, Executive Director, Gulf News
Client: Naheed Patel, Promotion Manager, Gulf News
Client: Nilesh Ved, Chairman, Tim Hortons